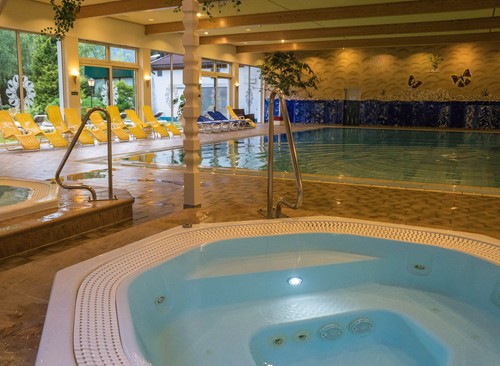 Having an indoor pool provides a convenient place to unwind and have fun throughout the year. Depending on the layout of your home and other factors, you can design a visually striking indoor pool that offers plenty of space for swimming. Consider the following design ideas for your luxurious indoor pool.
Outdoor Views
If your home has picturesque views of mountains or is surrounded by trees, think about having an indoor pool installed higher up. Putting your pool on a higher floor means you can enjoy these views while going for a swim. You can also create the illusion of being outdoors by having glass walls and doors installed all around your indoor pool. This provides clear views of your surroundings on all sides. Adding a patio or other outdoor living space just outside of your pool area gives you the option to step outside for fresh air after swimming.
Water Features
Adding a few water features to an indoor pool can create an elegant and exotic look that can make you feel like you're swimming outdoors or create the look and feel of a spa. Consider adding natural waterfalls to your indoor pool or putting in spillways that lead to other levels for a multi-level pool. An elaborate fountain with colored lights is another option to make your indoor swimming pool visually stunning.
Entertainment Features
If you mostly want to use your indoor pool for entertaining guests, having a swim-up bar added offers a convenient way to serve beverages. You can also set up a luxurious lounge area near your pool with warm towels, snacks, and a wide-screen TV for guests to use when they're done swimming. For added comfort, especially in winter, you can also have a fireplace installed. Other options to consider include a state-of-the-art sound system for your indoor pool area, along with lighting for nighttime swims.
Pool Plus Fitness Room
If your purpose for having an indoor pool is mainly for getting exercise, consider incorporating one into a fitness area in your home. Indoor lap pools provide the perfect design for swimming back and forth for physical activity rather than being a place to hang out and relax. You can add a few touches of luxury to a traditional lap pool for aesthetic purposes, such as colored LED lights, or have an infinity pool installed that also serves as a lap pool. Infinity pools create an edge-less look where water appears to blend or flow into the surrounding area instead of having distinct edges.